» email this song to a friend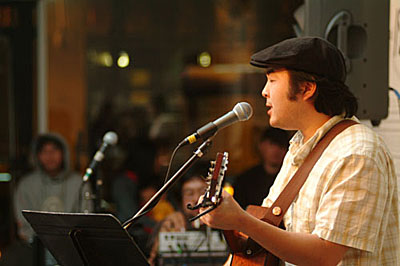 The verse section of this song was inspired by Roy Orbison. I was trying to write something that I could imagine him singing. I should probably concentrate on writing songs for singers who are still alive!
I recorded and wrote the lyrics to the song in a few hours before I left for a trip to Japan in 2003. To my ears, it ended up sounding like a close relative to the Beatle's "The Ballad of John and Yoko" Go figure…
Here's an old journal entry that sums up this song for me…
10-18-2002
Urgent!
If you see a busboy- and he is hungover, please give him a break. He is
doing what he can to pay the bills…it is a humbling job. He is hungover
because his darling sisters went to Mexico a few months ago and brought
him back a few mini bottles of tequila that he decided to smuggle into the
bar he went to last night. I repeat, please give him a break.
That is all.
3 Comments so far
Add a comment
Add a comment